Do You Want to Unleash the Full Power of Your Brain?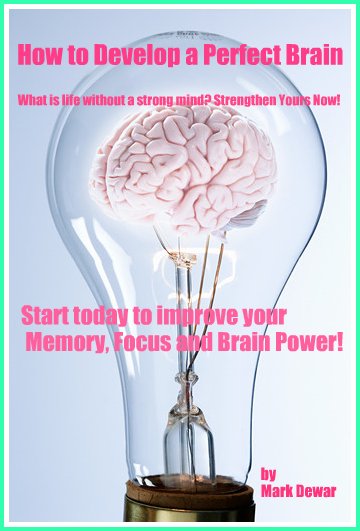 Do you wish you could work smarter, not harder?
Do you struggle to remember day-to-day things?
Do you wish you could improve your concentration?
How would you like to excel in all areas of your life?
You would? Good! Then this is a great place to start! If you give me just a few minutes of your time, I'll show you how you can explode your brain power and increase your personal potential in a matter of weeks. You can receive all that I offer here for a price you select! Just read on...
Dear Reader,
My name is Mark Dewar and I'd like to share a short story with you. As a young man, I breezed through college and University and spent the best years of my life working for others and then for myself. I prided myself on my quick thinking and my ability to achieve great things in all areas of my life.
All that changed a few years ago, when at the age of 54, I suddenly lost my self-confidence due to one thing and one thing only – my mind. It started with little things such as forgetting where I had put things. Gradually over a period of time, my memory steadily became worse.
It knocked my confidence sideways. Simple things confused me and everyday tasks became too much for me. I became a recluse and stopped socializing, convinced I'd make a fool out of myself. Worse still, no one understood how I felt. I was lonely, isolated and very depressed.
When my doctor gave me the all-clear, it gave me a ray of hope. If I wasn't going senile, then surely there had to be a way to strengthen my mind and help me regain my confidence again? I began researching everything I could about brain development, and finally after years of hard work, I created 'How to Develop a Perfect Brain.'
Discover the Secrets of Keeping Your Brain Healthy and Young!
'How to Develop a Perfect Brain' is a result of years of research into the human mind. After practicing the techniques in this guide, I noticed HUGE improvements in my ability to remember things and recall information easily.
I was able to think logically and make sense of things that had previously been an uphill struggle for me. Finally, I was no longer a prisoner of my own mind. I cannot tell you what a relief that was for me! After years of heartache and depression, I finally got my confidence and my life back – and so can you!
Keep Your Mind Razor Sharp!
With 'How to Develop a Perfect Brain', you too can learn the techniques I use to keep my mind as sharp as a knife. This 'all meat and no fluff' guide will allow you to:
• Keep your brain healthy and active for years to come

• Delay the onset of Alzheimer's and dementia

• Improve your memory

• Accelerate your ability to learn new things

• Calm and focus your mind

• Give you laser-like concentration and focus

• Explode your personal potential

• Give you the edge to work smarter and not harder

• Dramatically improve your ability to study

• Allow you to sharpen your personal skills and apply them to all areas of your life

• Encourage overall well being

• Eliminate stress and keep you sane

• Explore new possibilities to enrich your life

• Give you the confidence to tackle any situation with ease

• Cultivate a greater insight into your own abilities
We all invest in our bodies, but what about our minds? Did you know that unless you train your brain regularly, it can age faster than our bodies? It's a case of 'use it or lose it!' Believe me when I say that there is nothing better than a young and agile mind. In 'How to Develop a Perfect Brain' you will learn:
• Which foods to eat to support healthy brain function

• The one simple daily exercise which will accelerate learning, enhance your memory and literally explode your ability to learn and achieve (this is so simple a three year old could do it!)

• The one exercise to hone your concentration like a laser guided missile

• The five minute exercises you need to do to push your learning into overdrive and tap into your brain's creative subconscious

• How to supercharge your memory

• The one daily task to center your mind, increase your awareness and gain control over your thoughts

• 2 simple exercises that eliminate stress and distraction and heighten your senses

• How to turn your mind into the ultimate powerhouse

• The simple tricks used by the brain experts to turn random thoughts into power-packed snaps of useful information

• Gain insight into your limitations and deal with them

• How to put your learning on steroids and then some!
Thought You Were Too Old to Benefit from Brain Training? Think Again!
'How to Develop a Perfect Brain' contains powerful techniques that can be used by anyone at any age to boost their brain power. Even children can benefit! Even though this guide is for anyone who is serious about increasing their brain's potential, it is especially useful for those of you who would otherwise have convinced yourself that you were going downhill…
With 'How to Develop a Perfect Brain', you will learn the secrets that the professionals use to keep their minds active and young and all from the comfort of your own home! Your family and friends will be astounded when they discover how clever you really are and how fast you are able to learn new things!
Once your implement the techniques in this guide, the world is truly your oyster. You need 'How to Develop a Perfect Brain' if you:
• Struggle remembering simple things

• Forget names, faces and places easily

• Find it difficult to concentrate on anything

• Find learning difficult or worse still – a chore

• Suffer stress, anxiety and depression due to your poor memory

• Have poor recall of important things

• Suffer from random thoughts or are easily distracted when doing tasks

• Get writers block and thinking blocks when trying to complete tasks

• Experience memory lapses and lapses in concentration

• Have problems with your confidence and ability to take part in 'intelligent' discussions

• Are stuck in a rut and want to improve your life through learning
Forget having to put up with memory problems and poor brain function. 'How to Develop the Perfect Brain' will simplify and enrich your life by dealing with the problems that affect your memory directly.
Anyone can benefit from the techniques laid out in this guide and it will help your life enormously in more ways than you can imagine. You will learn simple techniques that can be done anywhere and anytime to really accelerate your brain's potential for results that speak for themselves.
Because I really want you to tap into your brain's potential and literally blast your ability to recall information, I am including two special bonuses: '10 Ways to Improve Your Memory' and 'Alternative Treatments for Improving Memory Function'.
In '10 Ways to Improve Memory Function', I am going to give you ten additional ways to improve your memory with specific techniques that make it easy to remember everyday things easily and efficiently. The techniques are so easy a child could do them!
In 'Alternative Treatments for Improving Memory Function', you will get inside information about the best drug-free treatments that can be used to enhance and complement everything you will learn from 'How to Develop a Perfect Brain.' It is ideal for those of you who are serious about preventing age related memory loss and want gentle and natural alternatives to harsh chemical drugs.
I am so serious about helping you to improve your brain power and memory function that I am offering you 'How to Develop a Perfect Brain' with '10 Ways to Improve Memory Function' and 'Alternative Treatments for Improving Memory Function' for a DONATION AMOUNT YOU CHOOSE!!

That's right...YOU select the amount you want to pay but please be fair so that I can continue to offer outstanding information with the goal of Improving World Brain Health!
I wanted to make my products accessible to EVERYONE so that you can all experience the wonderful effects that brain training has to offer.
I promise you won't regret it!
Here's what Phil had to say:
'Boy, what a difference! I'm busy running a small business and I need to stay sharp. Quick thinking is a big part of being ready to move when the opportunity strikes in my field. This book gets right to the point and you're up and running in no time!
Phil Anders
Denver, Colorado
Or see what Molly writes:
I must say that by using some of the techniques found in this book my memory and decision making has improved. There has definitely been an improvement in my focus. This book is a must have! Two thumbs up!
Molly D
Boston, MA
I am living proof that an aging or poorly functioning brain does not have to get the better of you. Now you too can experience firsthand the remarkable benefits that brain training has to offer. Live the life you always wanted. I have, and I hope you do too.
Yours Sincerely
Mark Dewar
To Order just click 'Donate'!
You Are Secure!
When you click the Donation Button, rest assured you will land on a page that is encrypted and secure. Your information is safe with PayPal, one of the largest payment processors on the Internet.
Close Window
P.S. Don't forget that when you donate for 'How to Develop a Perfect Brain' you will also receive two FREE bonus reports on '10 Ways to Improve Memory Function' and 'Alternative Treatments for Improving Memory Function'.
How to Develop a Perfect Brain' is an ebook in pdf format that can be downloaded instantly upon payment.
If you have any questions or queries, you can contact me at perfect-brain@hotmail.com



Click here to leave ebook sales and return to perfect brain homepage